Automatic Identification
AutoID's proprietary identification solution supplements and enhances digital marketing efforts with the most accurate, actionable web traffic analytics available.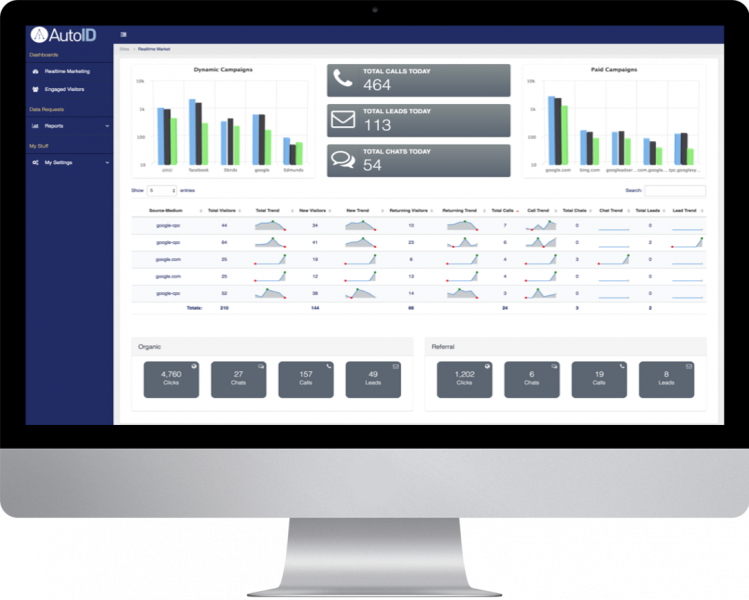 Digital Performance
Precise Analytics
AutoID is the only analytics solution that clearly categorizes website-visitor profiles, distinguishing between new impressions, bot traffic and returning visitors.
Individualized Insight
AutoID's patented technology individually maps visitor paths across websites and through innumerous sessions, whether on a desktop or mobile device, to gain a precise understanding of customers' online activity and purchasing decisions.
Actionable Reports
Comprehensive, easy-to-understand statistics reveal which ad campaigns are directly converting into phone calls to help improve marketing ROI.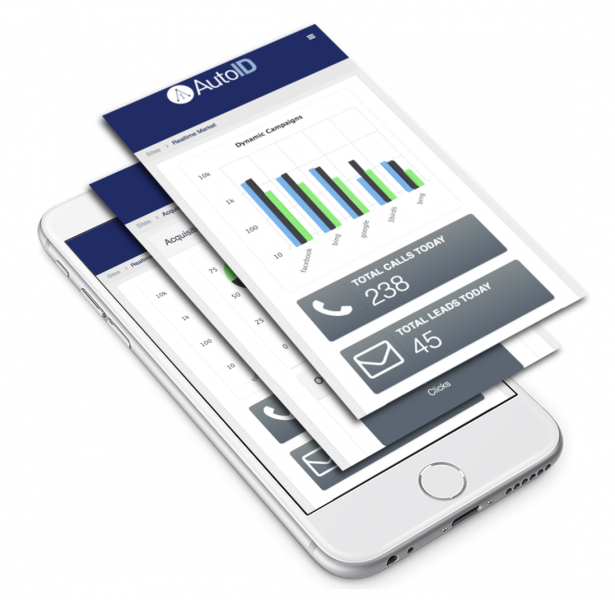 Measured Like Never Before
Easy to Install
Implementing AutoID only requires the addition of one simple line of code.
No Cookies Required
AutoID locks onto visitor profiles, by taking a distinct impression of individuals' computers and mobile devices, and remains regardless of cookies and web browser upgrades.
Easy-To-Access Results
All analytics are automatically aggregated into an intuitive interface, featuring customizable dashboards that are updated in real time. DISCOVER AutoID
Don't Let Marketing Dollars Go to Waste
AutoID is able to generate unique fingerprints of individuals' computers and mobile devices, as visitor profiles, to allow for the simultaneous tracking of each customers' online journey and calling activity. AutoID's precise analytics and actionable reports provide the data necessary to measure the effectiveness and engagement of digital marketing campaigns and, ultimately, increase sales.
Meet Us

157 N Glendora Ave Suite 207, Glendora, CA 91741

Call Us

(818) 482-1145

Mail Us

support@autoid.com